Important Notice:
You will receive an activation key to your email for the game which can be redeemed via Steam. 
Fast Email Delivery (12-48 Hours in most case within the same day)
Steam Required:
If you do not have Steam Account you can register FREE on Steam (or Log in with your existing account).
Check Activation Guide.
Single-player

Multiplayer

Third-person

First-person

Virtual Reality

Co-op

Fast Email Delivery (12-48 Hours in most case with the same day)

Activate globally

Windows Platform
Project CARS 3 Deluxe Edition Steam key
Project CARS 3 Deluxe Edition Steam key includes:
Project CARS 3 PC game;
Season Pass;
Season Pass Bonus
Gateway to racing sims
Slightly Mad Studios' Project CARS 3 release offers newcomers an opportunity to seamlessly get accustomed to the racing simulator genre. The game can be considered a mix between hardcore racing sims and arcade racing games, featuring realistic car damage and handling but not punishing or overwhelming new players who are out for pure entertainment and high-speed racing thrills. Once you buy Project CARS 3 Deluxe Edition Steam CD key, you'll get to enjoy elements of both racing video game types, making the experience appealing to many.
Progression and gameplay
Career mode follows a tier structure. Players start at the bottom, participate in a variety of thematic racing events and that require specific cars and compete until they unlock the championship in the final tier. Throughout the progression, players will get to explore the Project CARS 3 car list that includes exotic supercars, Japanese tuners, and even F1 type open-wheel cars. Buy Project CARS 3 Deluxe Edition Steam CD key, make your way throughout the campaign by meeting the highest criteria and enjoy an immersive racing sim experience with a tasteful touch of unadulterated fun!
Project CARS 3 game features:
Mix of sim and arcade.

 

Project CARS 3 PC is a racing simulator with arcade game elements that make the experience exceptionally friendly to newcomers;
Project CARS 3 car list.

 

Includes over 200 options – drive supercars, Japanese tuning culture icons, and open-wheel cars among others;
Project CARS 3 track list.

 

Racing in 120 courses around the globe, including the newly introduced streets of Shanghai;
Car customization.

 

Players will be able to unleash their creativity with numerous car performance and visual customization options;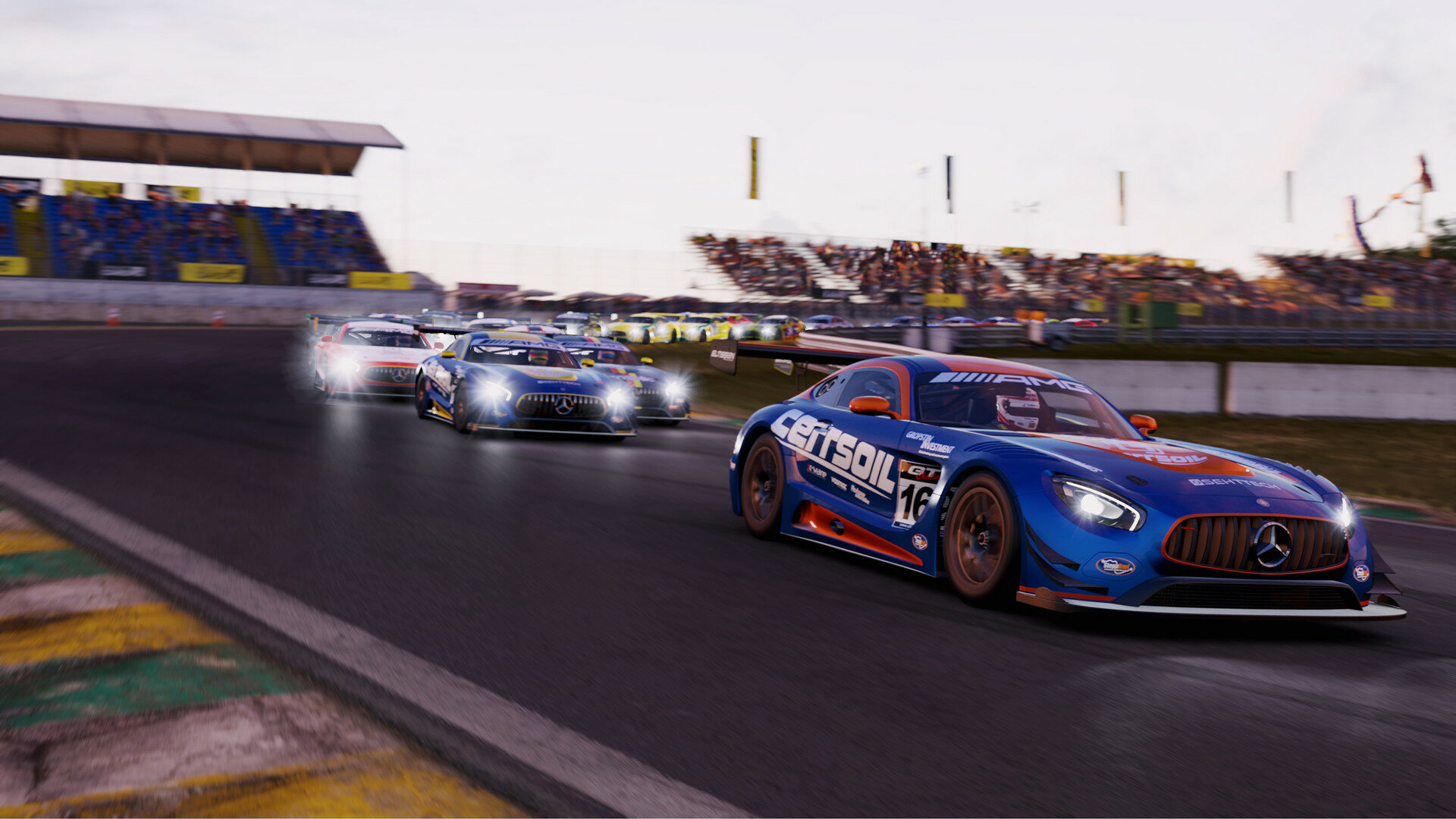 Minimum system requirements
System requirements

Processor

3.5 GHz Intel Core i5 3450, 4.0 GHz AMD FX-8350

Memory

Graphics

Storage
Languages:
English
French
German
Italian
Japanese
Korean
Polish
Portuguese
Russian
Spanish
Simplified Chinese
Traditional Chinese
Thank you
Great Price. Works Perfectly. Happy Customer
Thank you
Perfect Instant Delivery service, Very safe and secure and I really appreciate this site for having this game at that price. 100% Recommend this to everyone.
Happy
great price it took about a minute to get the code that site is legit
Excellent and quick service
I was a little nervous before buying it but the code worked perfectly and i received it instantly. Would definitely use this site again.
Good
this site is the best site i ever enterd in my life
 
All Physical (USBs + DVD) items are dispatched same day if order has been made before 2pm Monday to Friday
DOWNLOADABLE PRODUCTS: 
Product which are advertised as INSTANT DELIVERY are available instantly after successful payment. 
UK Royal Mail 2-3 Days

Note: Choose this option for Instant Downloads

FREE
48 Hours UK Tracked
£3.99

UK NEXT DAY by 1pm?

(Cut off time 2pm Mon-Fri)

£8.99

World Wide Delivery

(7-20 Days)

£6.99

World Wide Delivery Express

(5-7 Days Tracked)

£12.99